Alira Health is an international firm providing integrated strategy, execution and innovation services for healthcare and life science companies. Our team of consultants, bankers, doctors and scientists collaborate to fully understand every aspect of healthcare. We provide our clients with a continuum of support leading them to new successes at any point in their business lifecycle.

MedAcuity delivers safety-critical software engineering, test, and consulting services to the medtech industry; from low-level embedded systems through enterprise, UI, and mobile applications, and the interoperability thereof. Cybersecurity and secure development processes are our core proficiencies. Our seasoned team of local, cross-functional specialists works with clients to clear whatever complex software hurdles may block their paths in order to accelerate the right products to market.

Bench International is the oldest woman-founded executive search firm serving the Life Science and Healthcare sectors. The firm is also one of the most renowned experts in diversity recruitment at the board and executive level, as well as in R&D leadership. Bench's scorecard reflects over $150 billion in successful client exits, a 98% project completion record, with a 75% retention for five or more years. 33% of all leaders placed in Bench's 45+ year history have been gender and ethnically diverse. With headquarters in San Diego, California, and satellite offices in Los Angeles, New York, Boston, the United Kingdom and Switzerland Bench is One Global Team, No Borders, No Boundaries and One Global Budget, thus mitigating internally competitive offices.

Rothwell Figg is a long-recognized intellectual property law powerhouse serving technology-based companies operating in diverse industry sectors including medical devices, life sciences, pharmaceuticals, med-tech, biosimilars, software, AI, and privacy, among many others. Our attorneys, many of whom are also scientists and engineers, excel at deciphering key translational aspects of a wide range of technologies and maximizing leverage in the context of a client's desired implementation of such technologies, whether as participants in dynamic markets or as first movers. We serve local and worldwide clients from our Boston and Washington, DC offices.
Venue Host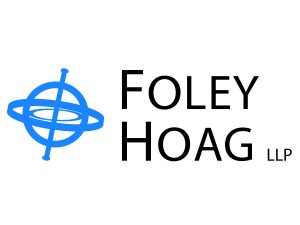 The Boston office is the base for many of the practices upon which Foley Hoag built its reputation, such as litigation, intellectual property, labor, environmental law and business. Attorneys in the Boston office are also focused on supporting the leading industries in the area, including technology, life sciences, energy, cleantech and education. The firm has deep roots in New England's entrepreneurial community and helps to cultivate the next generation of technology companies by advising them on financing, growth and maturity.